Shop OLAPLEX by clicking below!!

Are you tired of dealing with damaged, brittle hair? Look no further than Olaplex, the revolutionary hair repair product that has taken the beauty world by storm.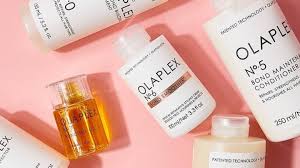 In this guide, we'll take a closer look at Olaplex, how it works, and why you should consider adding it to your hair care routine.
---
---
Olaplex is a hair care brand that offers a range of products designed to repair and strengthen hair. The company's patented technology works to rebuild broken bonds in the hair shaft, which can be caused by chemical treatments, heat styling, and other types of damage. By repairing these bonds, Olaplex can help restore your hair's strength, shine, and overall health.
Olaplex works by targeting the disulfide bonds in your hair, which can be damaged by heat, chemicals, and other stressors. When these bonds are broken, hair becomes weak, brittle, and prone to breakage. Olaplex's patented formula works to rebuild these bonds, restoring your hair's strength and resilience.
What are the benefits of using Olaplex?
There are many benefits to using Olaplex as part of your hair care routine. Some of the most notable include:

Improved hair strength and resilience
Reduced breakage and split ends
Increased shine and overall health
Better manageability and styling options
Olaplex Products:
Olaplex offers a range of products designed to meet the needs of different hair types and concerns. Here are a few of the most popular:

---

Olaplex No. 3 Hair Perfector: This at-home treatment is designed to strengthen and repair damaged hair. It can be used once a week to keep your hair looking and feeling its best.
Olaplex No. 4 Bond Maintenance Shampoo: This shampoo is designed to gently cleanse and nourish your hair while protecting against future damage. It's perfect for those with damaged, color-treated, or chemically treated hair.
Olaplex No. 5 Bond Maintenance Conditioner: This conditioner works to hydrate and repair your hair while helping to detangle and improve manageability.
Olaplex No. 6 Bond Smoother: This leave-in treatment helps to eliminate frizz and flyaways while providing heat protection and hydration.
Olaplex No. 7 Bonding Oil: This lightweight oil helps to restore shine, reduce frizz, and protect against heat damage.